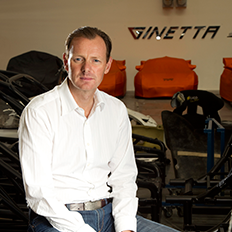 Lawrence Tomlinson - Biography
Lawrence Tomlinson has grown an impressive business portfolio from a single care home in 1988 to the award winning LNT Group which employs over 2000 people across its five diverse core businesses; Ideal Care Homes, LNT Construction, LNT Software, LNT Solutions and Ginetta. Lawrence's business acumen and foresight has ensured the LNT Group remains one of the fastest growing companies in the UK.

...read more
Press Release - 25/11/2013
Lawrence Tomlinson is today publishing the findings of his report on banks' treatment of businesses. Lawrence's report focuses on the large body of evidence he has received about RBS' turnaround division, Global Restructuring Group (GRG).  He has uncovered very concerning patterns of behaviour leading to the destruction of good and viable UK businesses.     Lawrence, who is the Entrepreneur in Residence at the Department for Business, Innovation and Skills, is calling for further investigation into this behaviour by the appropriate authorities and immediate action to stop this unscrupulous treatment of businesses.

The findings of Lawrence's report suggest that there are occasions in which RBS is engineering a business into default in order to move the business out of local management and into their turnaround division, GRG.  This then generates revenue for the bank through fees, increased margins and the purchase of devalued assets by their property division, West Register.  Once in GRG, Lawrence asserts that the business is trapped with no ability to move or opportunity to trade out of the position.  Commenting on the publication, Lawrence said:

"The profit-making nature of GRG significantly undermines its position as a turnaround division, in which good businesses should be restructured and returned to normal banking.  The temptation to get hold of assets and take additional profit from these businesses to boost GRG's balance sheet is clear.
From the cases I have heard, it is clear that a perception has arisen that the intention is to purposefully distress businesses to put them in GRG and subsequently take their assets for the West Register at a discounted price.  This needs to be addressed and the conflict of interest removed. 

Now RBS is aware of this behaviour through my work, the work of Sir Andrew Large and the investigation by the Sunday Times, it's time for them to look carefully at the processes and actions of this part of the bank. There are many devastating stories of how RBS has wrecked good businesses and the ruinous impact this has on the lives of the business owners.   I look forward to seeing how RBS proposes to take forward the forensic investigation into this part of the bank."

Lawrence's recommendations call for more competition to remove incentives to make short-term decisions purely in favour of bank profit rather than in the interest of the longer term customer relationship.  He states that:

"Without competition in the banking sector, these scandals will continue to come to light and ever more business will be hurt in the process.  With RBS and Lloyds at the size they are at, smaller challenger banks will never be able to adequately compete to take their customers and drive true market forces.   It is vital that RBS and Lloyds are made significantly smaller, removing conflicts of interest within the bank, and creating a number of smaller, purely retail/commercial banks."
Feedback
If you would like to contact us regarding the report please send an email to feedback@tomlinsonreport.comAll feedback will be dealt with confidentially